Hotel Amenities
Enjoy a host of convenient on-site amenities and services at our North Conway hotel with an indoor pool, complimentary breakfast, and 36-hole mini golf course! We're dedicated to the complete guest experience here at the #1 Choice Hotel in the United States and our returning guests are always happy to recognize our familiar staff. Stop by our front desk for a complimentary cup of coffee and ask about our favorite things to do in the area!
Complimentary Breakfast
Build your own custom breakfast each morning, with a menu that includes DIY waffles, yogurt parfait bar, eggs, breakfast meats, and a variety of breads and pastries. There's something for every member of your family! See our full menu of breakfast offerings.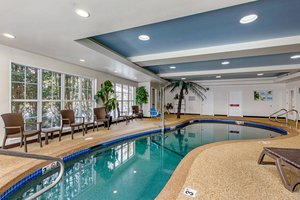 Indoor Pool
Swim and splash around at our North Conway with a heated indoor pool. Rinse off after your swim at the palm tree-shaped body shower.
Watch the kids from the patio, complete with patio furniture and chaise lounges to relax.
Pool hours are 9 AM – 10 PM.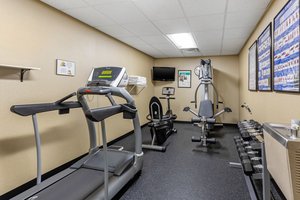 Fitness Center
Keep up with your exercise regime at our 24-hour fitness center. Our gym includes a stationary bike, treadmill, and weight station with dumbbells from 5-30 lbs.
Our fitness center includes a water fountain and complimentary towels.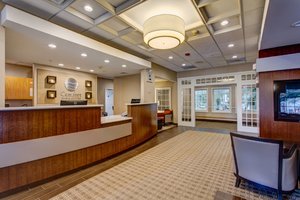 24-Hour Front Desk
Our friendly front desk is happy to assist with express check-in, late check-out, and concierge-like services to enhance your stay at Comfort Inn & Suites North Conway. With a dedicated local staff that lives right here in the Valley, we're always happy to offer our top recommendations!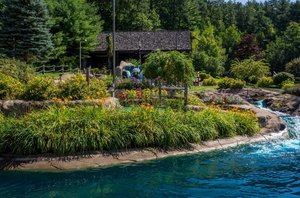 Garden
Enjoy the gorgeous year-round foliage from the comfort of our lawn and terrace, complete with picnic tables, Adirondack chairs, and benches. There is also a designated smoking area.
Explore the great outdoors at a wonderful jogging trail in Whitaker Woods, located just 4 minutes away from our hotel.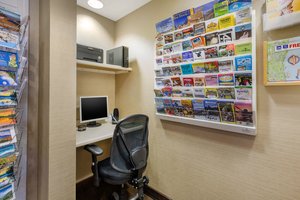 Business Center
Work outside the office with ease at our on-site business center! There is a computer, printer, and a variety of office supplies for guest use located just off the lobby.
Complimentary Wi-Fi is available throughout our property so you can stay connected, no matter where you are.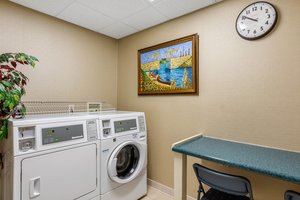 Coin Laundry
Refresh your suitcase at our on-site coin laundry! Located next to our fitness center, we have a washing machine and dryer available for guest use with vended detergent for your convenience.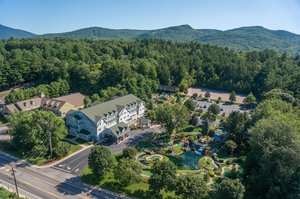 Green Practices
We are a Level 3 Green Practices hotel, and support a variety of environmentally-friendly practices here at Comfort Inn & Suites. These include LED lighting throughout our property, low-flow water, single-stream recycling, and an ozone system for our guest laundry.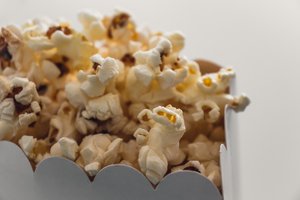 Winter Movie Nights
During the winter months, we host movie nights every Friday and Saturday, as well as school vacation evenings. With the help of a projection screen in our breakfast area, comfy bean bag chairs, and hot popcorn, evening movie nights are one of many fun events we host at our hotel!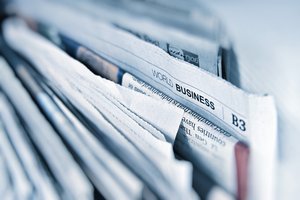 Additional Complimentary Amenities
We offer parking and large vehicle spaces in our lot.
Stop by the front desk for free copies of the Conway Daily Sun and USA Today.
Complimentary Wi-Fi is available throughout our hotel.
Book your stay today at our North Conway hotel with an indoor pool, complimentary breakfast, and amazing staff!